Recent News

Ken Leghorn Receives Founders' Award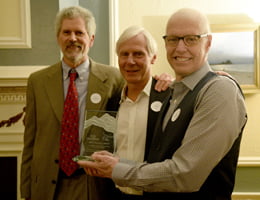 The Juneau Community Foundation awarded its second Founders' Award to Ken Leghorn at a reception at the Governor's House on March 1. The Founders' Award recognizes "a lifetime of achievement and service to Juneau and Alaska." The event also marks the 12th year of the Juneau Community Foundation, a grant-making charitable organization. Ken is a founding member of the locally owned and operated non-profit.
More than 200 people filled the House to honor Ken's enduring commitment to community and philanthropy and his extraordinary 40-year body of work supporting Alaska's people and wild places. First Lady Donna Walker and Governor Bill Walker welcomed all to the "peoples house" and Lieutenant Governor Byron Mallott, Senator Dennis Egan and Sam Skaggs added words of appreciation and affection for Ken. The award was then presented by the other two founders Reed Stoops and Eric Kueffner. To learn more.


Juneau Housing First Project – Addressing Homelessness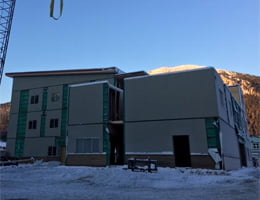 The Juneau Housing First Project will create 32 permanent supportive housing units that target Juneau's highly vulnerable chronic homeless population who are chemically dependent and exhibit an extensive history of emergency service utilization. Many of these individuals have co-occurring disorders, such as substance abuse and mental health disorders.

The project will provide safe and secure housing to residents in order to facilitate dignified lives, a healthy community, and will provide significant cost savings to the community. This $7.3 million project has been under construction since last spring and expects to open its doors in June 2017. The Juneau Community Foundation is working with the Collaborative to raise the last $200,000. The Juneau Housing First Collaborative is a powerful example of a community effectively pulling together to address a critical social issue.
Housing for the homeless in Juneau, click here to learn more about this project and how to donate.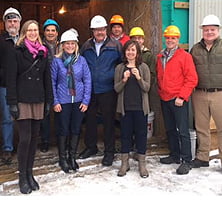 Juneau's Housing First Project received a $100,000 donation from the Stanley Reitman Foundation. The Reitman Foundation chose to donate to the Housing First Project because trustees believe it is something trust founder Stanley Reitman would be proud to support.
Thanks To Anchorage Trust, Juneau Housing First Project Gets $100K Boost, Juneau Empire, January 27, 2017.

Grant Opportunities for Social Services: Juneau Hope Endowment Fund & CBJ Social Service Grants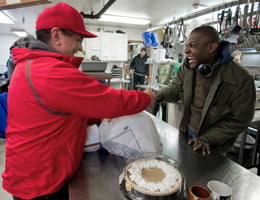 The 2017 Juneau Hope Endowment Fund/City & Borough of Juneau Social Service Grants program is open and applications are available.

The Juneau Hope Endowment Fund was established in September 2014 with the intent of supporting 501(c)(3) nonprofit organizations and government agencies that provide programs and services in the Juneau community to address the following social issues:
Homelessness
Hospice
Mental Health
Suicide Prevention
Substance Abuse
Relief for Victims of Violence
In 2015, the CBJ started adding their social service block grant funds to the annual Hope Fund grant program.
In spring 2017, the Foundation will award approximately $1.9 million in grants to organizations and agencies that address these social issues. The Foundation seeks to fund the highest priority social service needs in Juneau. To that end, as part of the 2017 grant making process, the Foundation will convene close to 20 community meetings with local social service providers. The purpose of these meetings is to establish priority needs and to encourage cooperative proposals. In addition, the Foundation will utilize a Professional Advisory Committee to review all proposals and make funding recommendations to the Foundation's Board of Directors.

Interested parties should submit one application for both the Hope and the CBJ Social Service Grants, and a separate application for the Utility Waivers. Letters of Interest are due end of December 2016 with applications available by mid-January and due in early March. More information available at Grants & Scholarships.
Avista Supports Juneau Social Services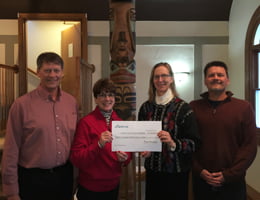 The Juneau Community Foundation thanks the Avista Corporation for a recent donation of $20,000. The donated funds will be used as part of the Juneau Community Foundation's 2017 Juneau Hope Endowment grant program. Learn more here.
CHARR Supports Juneau Community Foundation 's Hospice Endowment and Operating Fund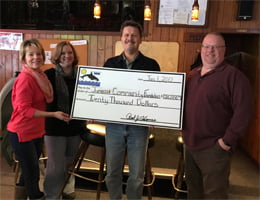 The Juneau Community Foundation thanks the Juneau/Lynn Canal Cabaret, Hotel, Restaurant and Retailers Association (CHARR) for a recent donation of $20,000. Half of the funds were donated to the Foundation's recently established Juneau Hospice Fund and the other half directly supports the Foundation's year-round efforts to raise philanthropic support for important programs, services and special projects throughout the community. Learn more
2016 Philanthropy Awards Dinner
Philanthropist of the Year Award & Business Philanthropy Award
The Juneau Community Foundation held their annual philanthropy recognition dinner on October 4, 2016. Every year the event honors a person and business that has been instrumental in supporting our community through their philanthropy. Honorees this year:
James Wilcox, Sr. received the Philanthropist of the Year Award
Behrends Mechanical owners Dick and Candy Behrends accepted the Business Philanthropy Award.