Jean and George Rogers Fund


Jean was born in Wendell, Idaho, and grew up to become a teacher shortly after graduating from high school and teachers' college. George was born and grew up in San Francisco, California. In spite of growing up during the depression, both were dedicated to education and met while attending the University of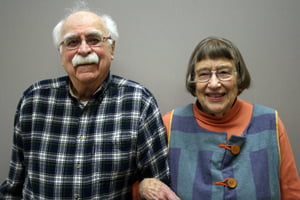 California at Berkeley. Shortly after graduating they came to Juneau in 1945 where, for the rest of their lives, they made many contributions in the public, educational, and artistic spheres. George performed in many Perserverance Theatre and Lyric Opera productions. They performed in the Lyric Opera's Die Fledermaus together as they had in college. Jean was active in and supported libraries, children's reading programs, public service and is an author of six children's books. They both strongly supported the arts in Juneau. George passed away in October, 2010, and Jean passed away in February, 2013. The family wishes to honor them and their many contributions by creating a fund to aid in the building of the Willoughby Arts Complex which was a dream of both Jean and George for Juneau. The public is invited to help celebrate Jean's life on Sunday, June 9, at 2:00 pm at the Juneau Arts & Humanities Council building. All contributions will be donated to the arts complex building fund in Jean and George Rogers' name.