Friends of the Jensen-Olson Arboretum Fund


The Jensen-Olson Arboretum is a treasured benefit of living in Southeast Alaska. Caroline Jensen donated the historical arboretum property at 23-mile Glacier Highway to the City and Borough of Juneau. It opened to the public in 2007 and has evolved into a garden destination and a living laboratory featuring nearly 1,000 native and cultivated species.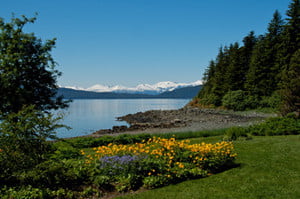 In 2012, the Arboretum was granted National Collection status for the close to 200 species and cultivars of Primula that are grown there. This is the largest documented collection of these plants in North America.
The arboretum embodies Caroline's vision of a garden that inspires learning in horticulture, natural sciences, and landscaping. It maintains the historical and cultural context of the site while preserving in perpetuity its beauty for pure aesthetic enjoyment.
Education is key to this vision, and a building for classes and workshops is essential to realize it. The Juneau Community Foundation, the Southeast Alaska Land Trust, and the Friends of Jensen-Olson Arboretum have joined forces to achieve this goal.
This fund was created to help gather the resources necessary to build a multi-purpose educational facility that will provide an interior space for group meetings and educational programs. The building will introduce visitors to the grounds and enrich a visitor's experience with interpretive materials and a reference library.
If you have thoughts or questions about this project, please contact the Friends of Jensen-Olson Arboretum at friendsjoa@gmail.com or www.friendsjoarboretum.org or 23035 Glacier Highway, Juneau, AK 99801.
Watch the Jensen-Olsen Arboretum movie to learn more.