Donor Stories
Shari & Hugh Grant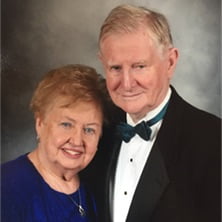 The Juneau Community Foundation held their annual Philanthropy recognition dinner on September 21, 2017. The event honors outstanding local individuals and businesses who demonstrate their commitment to community philanthropy and leadership. Hugh and Shari Grant received the Philanthropist of the Year award and Alaska Marine Lines and AELP/Avista accepted the Philanthropic Business awards.
Long-time residents Hugh and Shari Grant were honored for their many years of generous giving to local services such as Hospice, Foodbank, Haven House, Glory Hole, the Boy Scouts, arts and culture organizations, and special projects like the Seward Statue and the Juneau Whale. To further honor the Grants, and per their wishes, funds were raised for the Foundation's Juneau Hospice Endowment Fund. A $50,000 challenge match was announced at the event and by the end of the festivities, $35,000 had been raised. The full match has since been met by many generous donors, and the Foundation's Hospice Endowment Fund is now more than $228,000.
Business leaders AEL&P/Avista and Alaska Marine Lines are both renowned for their generous annual giving. Both businesses have deep Juneau roots and their traditions of giving which started long ago, continue today through their broad financial support of Juneau's essential nonprofit sector. Connie Hulbert (AEL&P) and Kevin Anderson (AML) were on hand to receive their respective business awards. Learn more.
The Foundation encourages all people to be philanthropic, to promote the welfare of others, especially by donating money and time to good causes.
---
Molly, Toby, and Elias Minick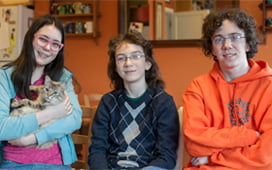 THEIR GIFT:  Sharing business profits with those in need
THEIR LEGACY:  Encouraging philanthropy in others
"When we present the money to the place we're giving to, it really feels good."
Learn More       Listen to Their Story
---
Lois and Marshall Lind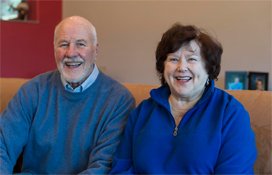 THEIR GIFT Changing individual lives
THEIR LEGACY Turning possibility into probability
"This is a great community and it's great because there are a lot of people who are willing to help. That's what makes it a nice place to live."
Learn More        Listen to Their Story
---
Eric Olsen and Vicki Bassett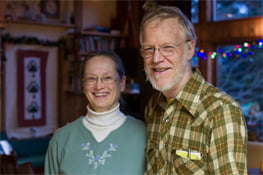 THEIR GIFT: Continuing generations of giving back
THEIR LEGACY: Building a Health Fund that supports people now and in the future
"We can't take it with us.  And it's a joy to spread it while we're here."
Learn More       Listen to Their Story
---
Sally Smith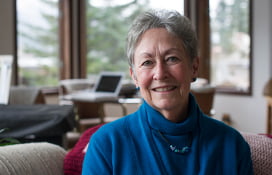 HER GIFT: Supporting Juneau's youth through the arts
HER LEGACY: Building a stronger community
"I love passing the baton to those coming up and then seeing what they do with it. And to know that when I'm gone, I'll have left something behind that's good."
Learn More       Listen to Her Story
---
Hugh and Shari Grant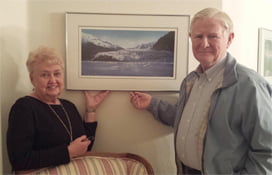 THEIR GIFT: Support for local artists and projects
THEIR LEGACY: A vibrant arts culture for Juneau
"We're local business people so we want to give back to Juneau projects. Juneau's our home"
---
Jim and Mary Lou King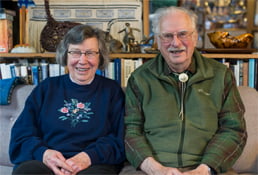 THEIR GIFT: Increasing understanding of our natural world
THEIR LEGACY: Opportunities and access for people who enjoy being outside
"Our trails are used even if it's pouring rain, or snowing, or pure ice. You still see people on all our trails."
Learn More       Listen to Their Story
---
2014
---
Paul Douglas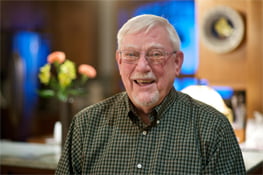 HIS PASSION: Investing in local youth
HIS ACTION: Doing his best to help others
HIS LEGACY: Pursuing causes that are bigger than him
"I would like to see more people share their wealth, their education, their expertise, and their thinking to help our community continue to grow and thrive."
Learn More       Listen to His Story
---
Julie and Peter Neyhart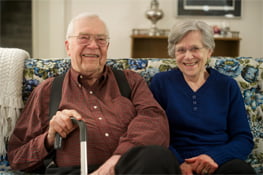 THEIR PASSION: Assisting people in need
THEIR ACTION: Giving their time and money
THEIR LEGACY: Making a difference for a moment or for a lifetime
"Any action that shows love is a good response to God's love for us and all that we have received. So that fits into both monetary giving and time."
Learn More    Listen to Their Story
---
Michael Kirk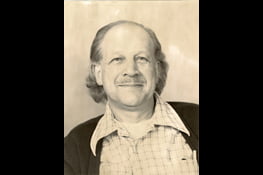 HIS PASSION: Teaching high school students
HIS ACTION: Leaving a planned gift
HIS LEGACY: Providing an ongoing opportunity for all students to reach high and achieve
"He wanted to level the playing field so that kids who show effort, show motivation, have an equal ability to advance and excel."
---
Sam and Gayle Trivette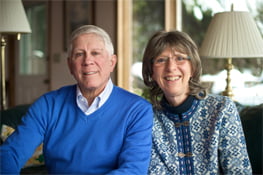 THEIR PASSION: Preventing suicide in Southeast Alaska
THEIR ACTION: Educating others to support the survival of kids in Juneau
THEIR LEGACY: Helping to reduce youth suicides in Juneau
"There's a wide range of things that make Juneau a rich place to live, and the Foundation is a way to continue to enhance it."
Learn More    Listen to their Story
---
Dick and Candy Behrends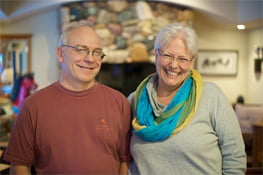 THEIR PASSION: Making their home town the best place it can be
THEIR ACTION: Paying it forward
THEIR LEGACY: Ensuring that Juneau continues to be the really special place it is
"This is where we work, this is where we live, this is where our grandson will grow up, our daughter and her husband live here—we have very deep roots."
Learn More   Listen to Their Story
---
Jack Kreinheder and Amy Carroll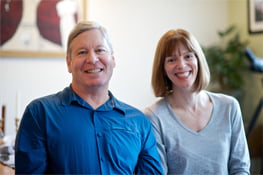 THEIR PASSION: Making Juneau's world class trail system even better
THEIR ACTION: Investing in Juneau's trail systems
THEIR LEGACY: Free outdoor recreational opportunities for all
"We'd like to give back to the community—leave Juneau a better place and help expand and grow outdoor recreation opportunities for everybody."