Board of Directors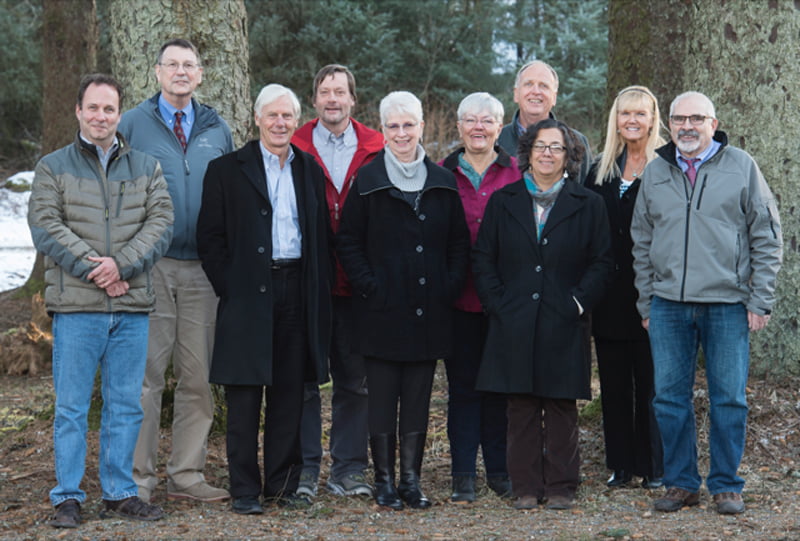 Laraine Derr, Secretary
Laraine Derr was born in South Dakota, raised in Nebraska and attended one-room rural schoolhouses, growing up without electricity until she was 9 years old.
Following college in Nebraska with a degree in chemistry, Laraine moved to Fairbanks in 1967. Moving to Sitka in 1975 and Juneau in 1980, Laraine worked for the state Legislature for one session – the year of the coup – and vowed never to work there again. After stints at the Department of Education and the Juneau School District, Laraine became Commissioner of the Department of Revenue. Changing administrations caused yet another career change and she moved to the University of Alaska Southeast as head of the School of Business and Public Administration before assuming the leadership of the Alaska State Hospital and Nursing Home Association. After seven years there, she moved to the Governor's Office as Director of Boards and Commissions.

Laraine owned Chez Alaska Cooking School, a recreational cooking school to showcase Southeast Alaska foods to tourist and local citizens alike, for 5 years and is now retired from paying jobs. She got her MBA and an Honorary Doctorate of Laws from UAS. She is a trustee on the Mental Health Trust Authority and chairs the Finance Committee. She is actively involved in many other charitable organizations.
John Gaguine
John Gaguine arrived in Alaska in 1977, shortly after graduating from law school, and came to Juneau one year later. He worked as a lawyer for all three branches of state government and represented the Alaska retirement systems as an assistant attorney general for over ten years. John has been a volunteer DJ at KTOO and KRNN for twenty years, has cooked monthly at the Glory Hole for almost as long, has delivered Meals on Wheels since 2003, is a shopper for the AWARE shelter, and has been a school Big Brother to several kids. He is on the Juneau Board of Equalization and the Juneau Sales Tax Appeals Board, and is or has been on the boards of the Glory Hole, SAGA, KTOO, the Southeast Alaska Food Bank and Catholic Community Service. John is married to Cindy, and has a daughter, son-in-law and two young grandchildren in Juneau and a son, daughter-in-law and two young grandchildren in Portland.
Eric Kueffner
Eric Kueffner is a retired attorney. He spent his entire thirty year career in Juneau with the firm of Faulker Banfield, working on commercial, corporate, and business law and litigation. He also practiced in the areas of employment law, native corporation law, probate and probate litigation, public utilities, and real estate. Eric has represented Native corporations, public utilities, and executors of small and large estates. Much of his work involved advising directors and officers on their fiduciary and legal responsibilities. He has represented numerous private firms on a regular basis, involving both business law and business litigation. Eric is the past president of the Juneau Bar Association and the Juneau Arts and Humanities Council. He served for nine years on the Docks and Harbor Board for the City and Borough of Juneau, including three years as the Chair of its Finance Committee.
Sandro Lane
Born in Milan, Italy in 1952, Sandro was raised in a multicultural environment, dividing his time between a family wine and olive farm in Tuscany and school in California. Upon graduating from UC Berkeley, where he obtained a bachelor's in marine biology, he drove to Alaska in the spring of 1978 and spent the summer commercial fishing in Southeast.  That fall, he took a position as a research assistant in the School of Fisheries at the University of Alaska, and a few years later received a master's in Fisheries Science, specializing in Salmon Genetics.
In 1982, Sandro launched a European style cold smoked salmon business, Taku Smokeries. As the business grew, Sandro became keenly aware of the nearly 4 million pounds of seafood processing discards generated by Taku Smokeries and their impact on the marine environment. So in January of 2003, after selling his business, Sandro started his a biotech company, Alaska Protein Recovery, LLC, to create nutritionally viable products for human consumption from the discards. In 2012, Lane sold his second company to Trident Seafoods, and worked as the executive director of Trident Seafood's newly formed nutritional supplement division until he retired at the end of 2015.
Since retiring, Sandro has enjoyed spending time with his family and is excited to have time to dedicate to the Juneau Community Foundation where he hopes to make a lasting impact and contribution. In May of 2016, he was awarded an honorary Doctorate Degree by the University of Alaska, Southeast for his contributions to the Juneau community, the State of Alaska, and the commercial fishing industry which is so near to his heart.
Geoff Larson
Geoff is a Chemical Engineer having worked in R&D as a Development Engineer, then as a Process Engineer in a gold mine when he moved to Alaska in 1982 before starting his small business in 1985. Geoff Larson and his wife Marcy are now celebrating the 25th anniversary of their Juneau-based brewery. Alaskan Brewing has been nationally recognized for its innovative practices which have pioneered and demonstrated more sustainable ways of brewing. Many of Alaskan's Award winning beers are brewed with the flavors and history of coastal Alaska. The brewery's flagship recipe for Alaskan Amber is based on a recipe pieced together from shipping  and newspaper records from a Gold Rush-era brewery in Juneau. Geoff is a published author, an internationally recognized beer judge and is a member of the Search and Rescue community as a K-9 dog handler in SEADOGS. He is presently serving as a board member on the Juneau Water and Waste Water Advisory Committee, Douglas –Dornan Foundation Fund, SEADOGS and the Juneau Community Foundation.
Amanda Mallott
Mandy Mallott was born and raised in Juneau. After attending college and living in the San Francisco Bay Area for nearly 15 years, Mandy, along with husband Anthony, is grateful and happy to be home in Juneau, raising their three children. She graduated from Santa Clara University with a B.S. in Civil Engineering. She was a senior manager focused on strategic process improvement for Accenture, a global management and technology consulting firm, where she worked for over 10 years.
Mandy is a current board member of the Juneau Arts and Humanities Council, participates on the Juneau School District's Indian Studies Parent Advisory Board, volunteers as a Community Cafe parent leader for Alaska Children's Trust, is a past board member of Auke Bay Cooperative Preschool, and enjoys participating in her children's classrooms and advocating for arts & place-based culture studies.
Mike McKrill, President
Mike McKrill has been a Juneau resident since 1978. He graduated from Oregon Health Sciences University with a dental degree in 1970. He owned and operated a dental practice in Juneau until 2008 and is now retired. He is active in the community having served on the board of the Southeast Alaska Council of the Boy Scouts and on the Trail Mix board of directors in addition to the Juneau Community Foundation board. He has also served in several capacities for Southeast Roadrunners, Juneau Dental Society, and Alaska Dental Society.
In retirement he currently enjoys woodturning, fishing, photography, and running. He and Lisa are extremely happy that both their children have chosen to make Juneau their home and they have one grandson.
Bob Rehfeld, Treasurer
Robert Rehfeld obtained his Alaska Certified Public Account's license in 1985 and the same year, with George Elgee, established Elgee Rehfeld Mertz, LLC. In 1997, Bob attained two Certificates of Educational Achievement from AICPA in the areas of Financial Planning and Tax Planning and Advising for Closely Held Businesses. He has presented seminars on federal tax law and been a keynote speaker for several local organizations. With his partners, Elgee Rehfeld Mertz, LLC has grown over the years and in 2012 received recognition as one of the top financial management firms to work for in the country.
Bob's professional memberships include, the American Institute of Certified Public Accountants, past director of the Alaska Society of Certified Public Accountants, Southeast Estate Planning Council. His past community service includes past president of the Juneau Rotary Club, past assistant district governor of  Rotary International, District 501, president of Smith Hall Senior Housing, vice president of St. Vincent de Paul, past board member of the Juneau Arts and Humanities Council. He has also served on the Friends of the Alaska Governor's Mansion Foundation and the United Way of Southeast Alaska. In addition, Bob coached youth basketball and was president of the Rebounders, the high school girls' basketball booster club.
Rick Shattuck, Vice President
Rick Shattuck is a 4th generation resident of Juneau. Born and raised here, and a graduate of Juneau Douglas High School, Rick continued his education at the University of Oregon and Arizona State University, earning a Bachelors degree in marketing in 1990. Rick is a partner and commercial insurance broker at the insurance firm of Shattuck & Grummett, a company started by his family in 1898. He has been a licensed insurance professional since 1989, and earned the  Certified Insurance Counselor designation in 1990 while working as an underwriter for Great American Insurance Company. Rick is also the current president of Develop Juneau, Inc., a company formed to serve the housing needs of legislators.
Rick married his wife Kelly in 1997, and they have one son, Ryan. Rick enjoys skiing, boating, fishing, traveling, and spending time with this family.
Reed Stoops
Reed Stoops is a lobbyist representing Alaska business interests and a private land developer. He was formerly Chairman of the Juneau Planning Commission and is serving or has served on several local nonprofit boards including the Hospice Foundation, Juneau Soccer Club, and the Southeast Alaska Land Trust. Reed is one of the initial members of a group of Juneau residents who conceived of and initiated the Juneau Community Foundation and is serving as its first board president. Reed has been a Juneau resident since 1971 and enjoys running and biking in Juneau's unique and beautiful environment. Reed is married to Betsy Brenneman and has a son, Daniel.
Bob Storer
Bob Storer retired from the State of Alaska in 2004, where he held various positions related to managing State of Alaska funds. Bob's  most recent position was as executive director of the Alaska Permanent Fund Corporation. Bob currently serves on several boards and advisory committees in the money management industry. In addition to the Juneau Community Foundation, Bob is active on the Bartlett Regional Hospital Foundation board.
Karen Taug
Karen's heritage reigns from Yakutat, Klukwan, Juneau and Boston. Her maternal roots are Tlingit Indian and of the Raven Tribe and Coho clan. Her father was a career Army Officer who came to Alaska where he married. Because of the army, Karen grew up living in Alaska, several states in the US, England and France. Karen is married to Ole and they have raised 6 children, 3 boys and 3 girls in Juneau. Karen graduated from the University of Alaska Southeast with a Bachelor of Business, Accounting degree. She has spent her career primarily in for profit businesses in Juneau as an accountant progressively moving up the ladder to Controller in logging, tourism, mining and healthcare. She was a board member of Goldbelt, Inc. for 6 years, where she served two terms as Chair. Karen also serves on the University of Alaska SE Advisory Board and the First Things First Foundation. Her interests are sewing traditional native regalia, quilting, hiking and spending time with her grandchildren.
Karen West
Karen West is a 36 year resident of Juneau and a life long Alaskan.  Karen began her banking career in 1982 with the former United Bank Alaska and Alliance Bank prior to being hired by National Bank of Alaska in 1989 which merged with Wells Fargo in 2000.  Her overall banking career spans 34 years starting in the Loan Department and moving up the ladder to her position as the Business Banking Manager for the past 16 years.  Karen is active in the community with current and former board positions with the Downtown Rotary Club, Hospital Board, Big Brothers Big Sisters, Healing Hand Foundation and NCAAD (National Council on Addiction and Drug Dependence).  Karen received her banking education from the American Bankers Association and the College of Commercial Credit.