---
The Juneau Community Foundation was created to promote philanthropy and effectively respond to the needs of our community to create a healthy, safe, and culturally rich environment.
---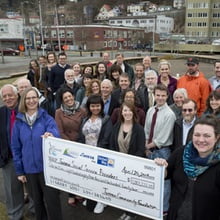 2017 Hope Endowment/CBJ Social Service Grants. The Juneau Community Foundation has awarded $1.8M in grants to local nonprofit social service organizations to help Juneau's most vulnerable residents. The grants support nonprofit service providers in these areas: homelessness, food security, addiction, domestic violence, suicide prevention, senior care, hospice, mental and physical health, education and income stability. In partnership with City & Borough of Juneau, Avista Corporation and United Way of Southeast Alaska, 23 local organizations are receiving grants. Learn more about this and other Foundation news.
---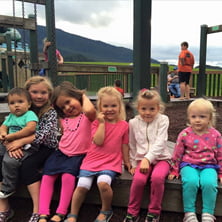 Project Playground – Twin Lakes. After 2.5 years of planning, Project Playground was built as a labor of love by teams of volunteers during May 2007. Project Playground has since been maintained and improved by the Friends of the Playground, CBJ and SAIL. The April 24 fire that destroyed the playground sent a ripple of concern across our community and statewide. Fundraisers have been held by many entities and a new Steering Committee will help guide the rebuilding of Project Playground.
For the latest information, visit the new Project Playground website.
Amount raised: $161,000. Thank You Generous Business Donors!
Learn more about other Special Projects.
To support Project Playground donate here:
---

Stories of Local Philanthropy. Those who give through the Juneau Community Foundation do so for a variety of reasons. Whether they're prompted by a passion for a particular cause, a wish to lend a hand to those in need, a desire to build community, or as a tribute to a loved one, their generosity flows from a common source: people who care. Read more about some of our donors here.
---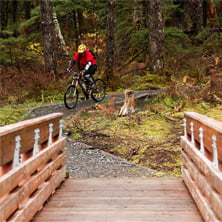 Parks, Trails & Recreation Fund. The spectacular natural beauty that surrounds us in Juneau is frequently cited as one of the best things about living here. The Foundation builds on that strength by supporting opportunities for outdoor and indoor recreation enthusiasts of all backgrounds and ages. Through the Parks, Trails & Recreation Fund, we seek to enhance our world class trail system and revitalize neighborhood parks and recreation areas. Treadwell Ditch Trail, Auke Lake recreation area, new wilderness cabins…learn more!
---
---
No matter the size, a gift to the Juneau Community Foundation is a first step in advancing a cause that matters to you. Find out more about how your donation can help create a healthy, safe, and culturally rich environment in our community.